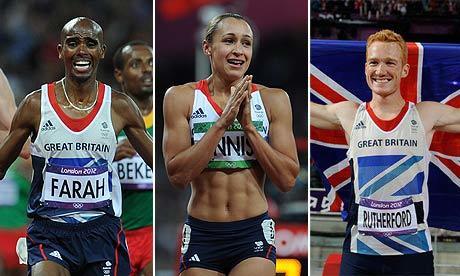 The hyperbole about the greatest show on Earth seemed justified as event after event, athlete after athlete was upstaged…
Jessica Ennis won Olympic heptathlon gold for Great Britain in front of a rapturous home crowd in the Olympic Stadium.
But thats not all. Within the same hour, Greg Rutherford then went on to win Britain Gold for the long jump and Mo Farah took a magnificant Gold in 10,000m.
Team GB rock! Awesome results for awesome athletes supported by an team of (wait for it…) awesome professional trainers, scientists and engineers.
Well deserved medals for beautiful performances and lots of long term dedication.
Criticism that the Olympics only promotes elitist athletes and fails to integrate grassroots models to encourage amateur athletes have lead to the suggestion that professional athletes should not receive Olympics medals.
Looking at the display of professionalism and dedication for out GB team over the last week, who would dream of not rewarding them for such performances for their country.
Bit of perspective please people!
See on www.guardian.co.uk